We strive to keep our building free of potentially hazardous items. As a result, we have determined what items are considered contraband and are not approved for patients admitted to SPBH. The list includes, but is not limited to:
Alcohol, drugs or illegal substances
Bedding, blankets, pillows, and stuffed animals – for Infection Control (we will supply all the linens and pillows you need during your stay)
Belts, shoelaces, handkerchiefs, hats, scarves, stockings, panty hose or tights, any clothing with ties
Boots (includes steel toe)
Cans (aluminum, metal or plastic – such as aerosol cans)
Cameras, Cell phones, Computers
Clothing with offensive language
Cigars, e-Cigarettes or opened cigarettes (we are a smoke-free facility)
Cosmetic containers / Make-up
Ear / Facial piercings deemed a safety risk (stud earrings and piercings are acceptable; hoop earrings are not)
Food of any kind outside of SPBH is not allowed on units or patient rooms and will not be delivered
Lighters and Matches
Mouthwash/Gel toothpaste containing alcohol, aerosols
Drawstrings, Rope, Chains or Other Corded Items
DVDs & DVD Players
Earphones
Electronic devices (all) — cameras, cell phones, computers
Glass or ceramic objects and picture frames
Hats or Headbands
Hair Dryers, Curling irons, Straightening Irons
Hairspray
Hand sanitizer with alcohol
Hard-Backed Books (soft cover books are acceptable)
Metal items such as; combs, metal nail files/nail clippers, manicure sets, and picture frames
Mirrors (including make-up compacts with mirrors)
Nail polish or polish remover
Neck Jewelry
Needles
Paperclips, Pens & Spiral Bound Notebooks
Perfume & Cologne
Pins (includes straight and safety pins)
Plastic bags of any size
Purses, luggage, backpacks (will be stored until discharge)
Razors
Scissors
Sewing needles, hooks or scissors of any kind
Underwire Bras and Sport Bras
Weapons of any kind (e.g. guns, knives, mace/pepper spray, etc.)

3955 156th Street Northeast
Marysville, WA 98271
Call Us 24/7 at: (360) 651-6400
From I-5 , take exit 206 onto 172nd St NE.
Head east on 172nd St NE.
Turn right onto Smokey Point Blvd.
Head south on Smokey Point Blvd for 1 mile.
Turn left onto 156th St NE.
Smokey Point Behavioral Hospital is on the left.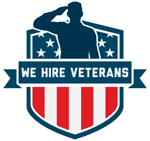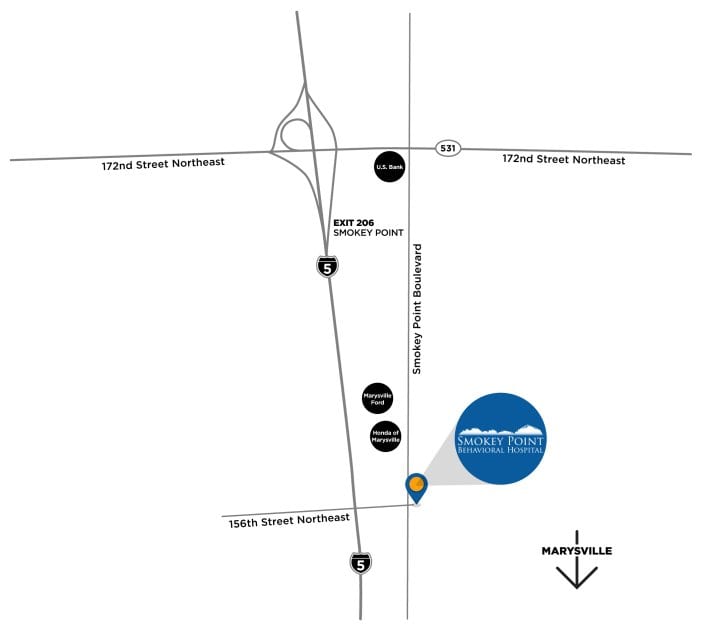 Please note that Smokey Point Behavioral Hospital is located on the east side of I-5. Google Maps will take you to the west side of I-5.