Proactive Ways to Protect Your Mental Health From Our Team at Smokey Point Behavioral Hospital in Marysville, WA
At Smokey Point Behavioral Hospital, we take our role seriously and joyously as a leading mental health resource for people living in and around the Marysville, WA community. Our multidisciplinary team of mental health specialists and physicians believe that with the right support and services, everyone can maximize their mental wellbeing, including adults and teens living with depression, post-traumatic stress disorder, anxiety disorder, bipolar disorder, and more.
To help you and your loved ones navigate the rocky path to mental well-being, we've created the following simple checklist that can help you take a more proactive approach to improving your mental wellbeing.
5 Quick Tips To Improve and Maximize Your Mental Health
1. Do Your Part to Raise Mental Health Awareness in Your Community
The stigma associated with mental illness is a challenging obstacle that prevents many people from seeking the care and resources they need, and often leaves people feeling socially isolated. Raising mental health awareness—by committing to self-care, sharing your experiences with people you trust, learning about mental illness, and getting involved in treatment and research organizations—can give you the deep satisfaction of caring for yourself and others.
2. Understand the Symptoms and Signs of Mental Illness
Being able to recognize symptoms and signs of mental illness early on increase the chance that you or your loved one will receive earlier diagnosis and treatment, which can improve outcomes. Common signs include:
Dramatic changes in eating and sleeping
Long-lasting feelings of sadness, irritability, depression, anxiety, fear, or severe mood swings
Social isolation and withdrawal
A loss of interest in formerly enjoyable activities
Unusual thoughts (delusions) or seeing/hearing things that aren't there (hallucinations)
Thinking or talking about suicide or self-harm
Feeling overwhelmed and unable to cope with daily life
Physical complaints with no obvious cause
Substance abuse
3. Utilize Mental Health Services Near You
Mental health services are drastically underutilized. While the National Alliance on Mental Illness estimates that nearly 44 million adults experience mental illness in any given year, less than half end up seeking treatment.
We encourage our community members to see mental health treatment in the same way they see physical health. That is, if you break a leg, you don't ignore it or hope it heals on its own—you seek help from professionals! Our multidisciplinary team provides individualized and group therapy, pharmacology assessments from board-certified physicians, family counseling, and more—everything you or your loved one would need to manage a mental illness and thrive.
4. Schedule a Mental Health Day Off
Prevention is almost always easier and less costly than treatment. And while mental illness isn't always avoidable, there are ways to reduce your risk and maximize your emotional and mental function.
Feeling exhausted? Overwhelmed? Run down? Stressed out? Take a mental health day—a day just for you—to give yourself a full reset and restore your mood, energy, and mental clarity.
5. Make Mental Health Maintenance a Daily Practice
In addition to considering an occasional mental health day, you can also begin small daily practices of self-care. Possible strategies include deep breathing exercises, meditation, journaling, learning a new hobby, expressing your needs, practicing your conflict resolution and communication skills, exercising, and seeking out holistic services such as massage, art therapy, and yoga.
A personalized mental health practice doesn't need to take any more than 5-10 minutes every day. Choose things that are enjoyable and relaxing.
Looking for Mental Health Resources Near You?
If you're interested in exploring mental health resources for yourself or a loved one, or if you believe you're exhibiting signs of mental illness, contact Smokey Point Behavioral Hospital at (360) 651-6400. Our clinicians are available 24/7 for confidential free screenings. Please don't hesitate to call!
If this is an emergency or if you are at risk of harming yourself or others, call 911 or go to the nearest emergency room.

3955 156th Street Northeast
Marysville, WA 98271
Call Us 24/7 at: (360) 651-6400
From I-5 , take exit 206 onto 172nd St NE.
Head east on 172nd St NE.
Turn right onto Smokey Point Blvd.
Head south on Smokey Point Blvd for 1 mile.
Turn left onto 156th St NE.
Smokey Point Behavioral Hospital is on the left.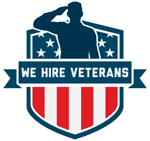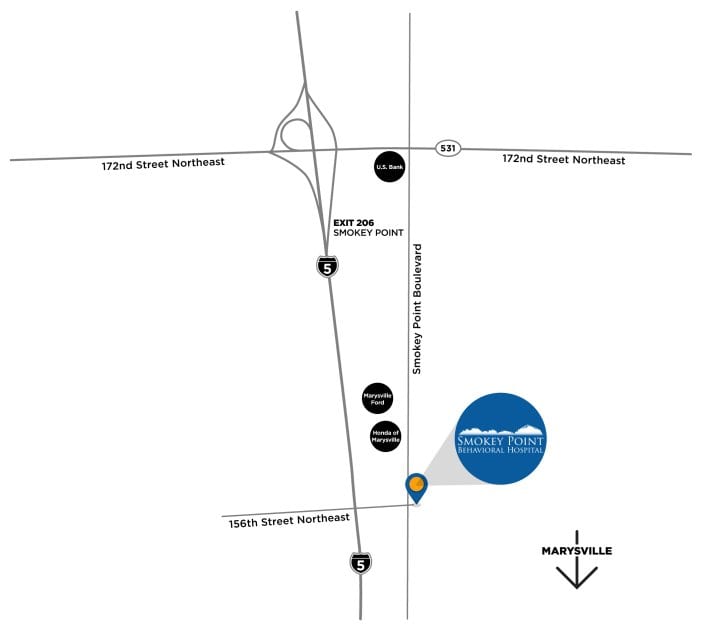 Please note that Smokey Point Behavioral Hospital is located on the east side of I-5. Google Maps will take you to the west side of I-5.